WARNING: DON'T EVEN THINK ABOUT GETTING
BOTOX OR DERMAL FILLERS UNTIL YOU READ THIS…
WARNING: DON'T EVEN THINK ABOUT GETTING BOTOX
OR DERMAL FILLERS
UNTIL YOU READ THIS…
Looking Younger Without Surgery
Has Never Been Easier!
There's nothing worse than looking in the mirror and seeing signs of aging that – it seems – were not there yesterday! 
Unfortunately, these changes can really take a toll on our confidence and… let's face it, on how "others" see us too.
And it's natural to start thinking what to-do about it.
The most common solutions we think about are:
…facials or peels 
…medical grade anti-aging creams
…botox or fillers
…skin laser treatments
…a FACELIFT!!!
I know… it's easy to get carried away.
Especially if you don't know your options.
But YES, getting facials, peels, botox, laser treatments or fillers may be right for you. 
However…
If you're starting to notice the dreaded "tired look", there are a few things you need to know before dishing out thousands of dollars every year to fix it.
First, let me explain what the "tired look" is and why it happens…
What Exactly Is the "Tired Look"?
Let me make one thing clear, the "tired look" is NOT the look you see in the mirror when you are tired.
On the contrary, it is the look you (and everyone else) see when you're well rested and relaxed.
There are many factors that contribute to aging skin including lifestyle, diet, and genetics just to name a few.
4 Giveaway Signs of the "Tired Look"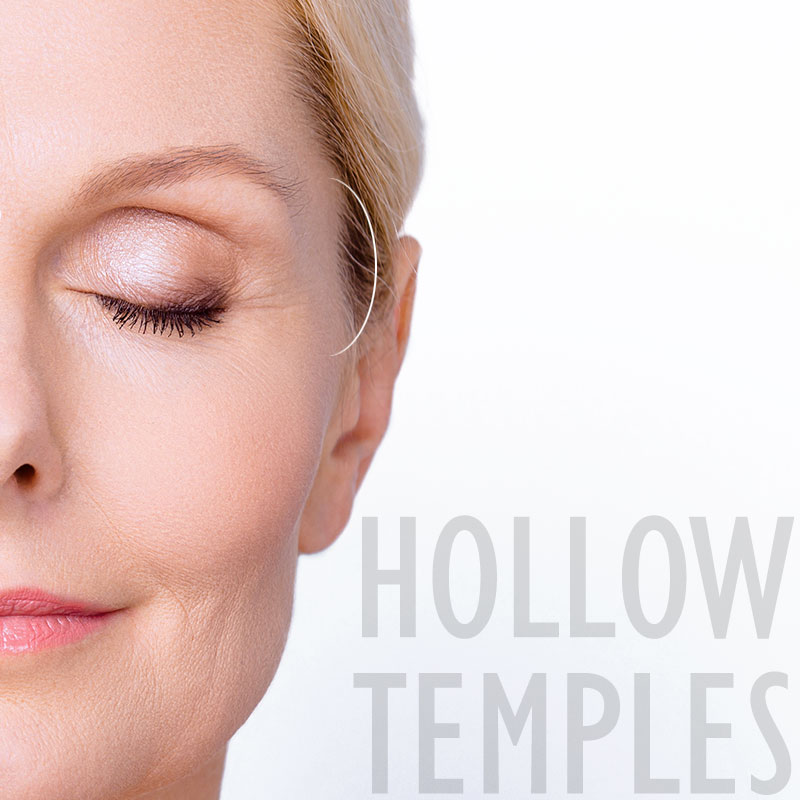 Hollow Temples
Loss of fat and tissue volume creates this gaunt look. Thin people experience this look at a younger age.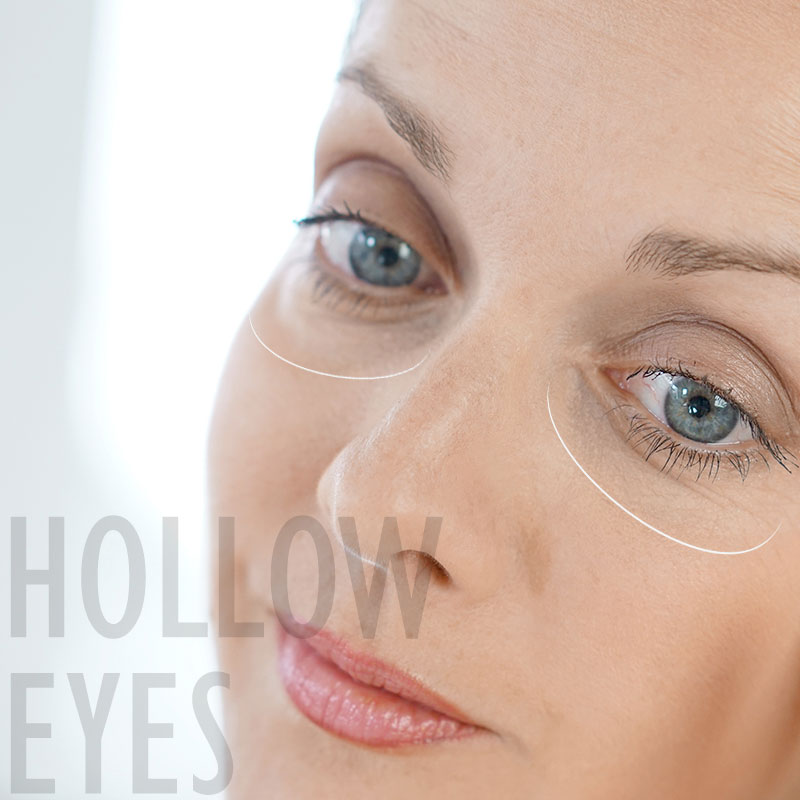 Hollow Eyes
The medical term for this is "tear trough hollows" but is commonly referred to as sunken eyes or under eye shadow. Skin laxity and fat loss are the main causes of this appearance.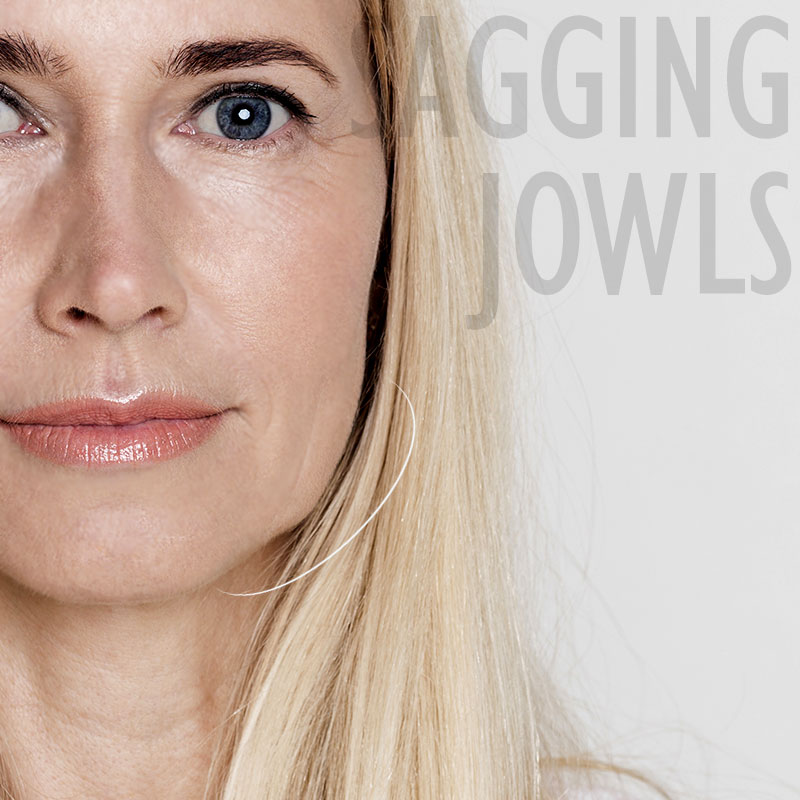 Sagging Jowls
Sagging skin along the jowls is caused by loss of collagen and elastin. Sagging can also be exacerbated by weight loss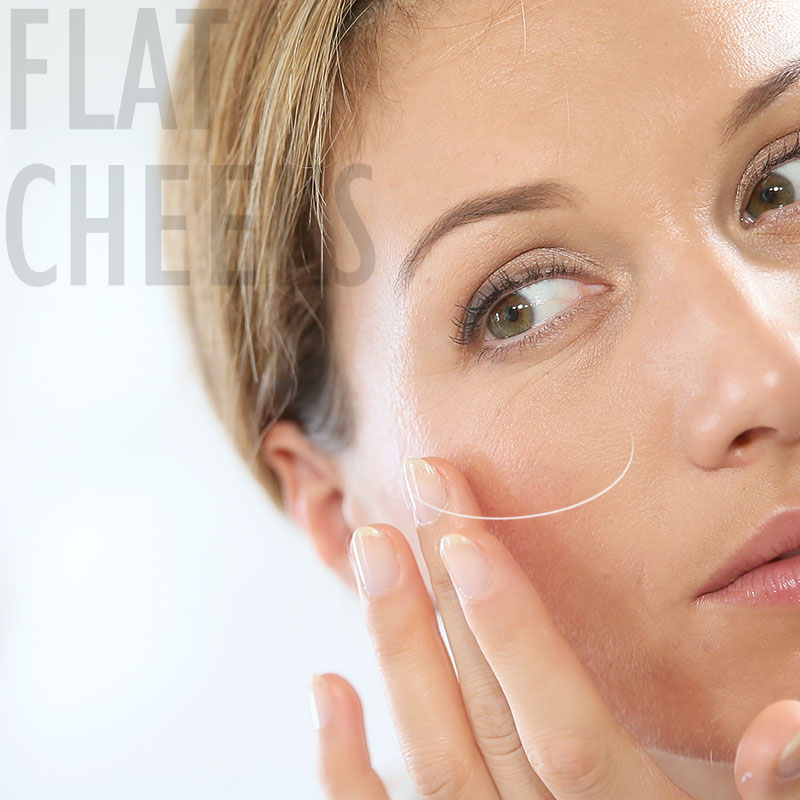 Flat Cheeks
Loss of collagen causes the skin to thin, plus loss of the fat that give our cheeks its roundness causes them to look flat.
Why Do We Get the Tired Look?
The quick answer is "age".
You've probably heard that collagen provides structure to our skin, bones, tendons, and ligaments.
Right?
But did you also know that:
After the age of 20 we produce 1% less collagen each year
At around 40 we begin to lose bone mass
At around 35 we start to lose subcutaneous fat
This creates the perfect storm…
In which the skin loses its elasticity and suppleness. Combined with bone and fat loss, it causes the skin to lose its support and begins to sag.
This sagging effect is what I refer to as the "tired look".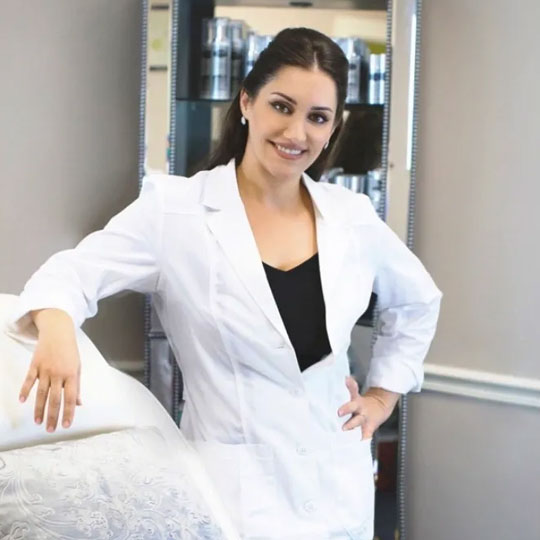 I'm Bita Ardakani PA-C, MPH, MEP-C… a national and board certified Physician Assistant specializing in medical cosmetic and dermatology procedures and creator of the BitaLift™, a one-of-a-kind age defying procedure that lifts the skin on the face while restoring volume.
Coincidentally, bita means "one-of-a-kind" in Farsi. So, I guess I meant that literally!
I'm also an injectables trainer and educator to aesthetics practitioners.
How Do You Fix Sagging Skin?
Hint: Liquid Facelifts Don't Actually "Lift"
Don't be fooled by claims that you can get a facelift with dermal fillers, also known as liquid facelift or facelift by injection.
Listen, dermal fillers are great to restore volume in "strategic" areas of the face to help you look more youthful. 
But the name says it all… They are FILLERS – not LIFTERS.
And if you think about it, it makes total sense. If you pinch your cheeks, to elevate them, the skin along the jowls doesn't move.
But if you LIFT the skin along the side of your face… aha! EVERYTHING MOVES UP!
Not to mention, it takes a lot of filler to get the "effect" of a lift, making it very expensive and often…. UNNATURAL-LOOKING.
So does that mean you need a surgical facelift?
Absolutely Not!
For one, a surgical facelift does not restore volume. On the contrary, it reveals your bone structure even more!
Which reminds me…
I had a patient come to me who had a surgical facelift two months prior, so that I could "fix" her, because her face looked too thin.
In other words… Lifting Is Not Enough!
There Is A Better Solution!
I created the BitaLift™ precisely for women (and men) experiencing mild to moderate sagging skin and volume loss and other signs of aging on the face and neck.
It is a comprehensive approach to address most signs of aging…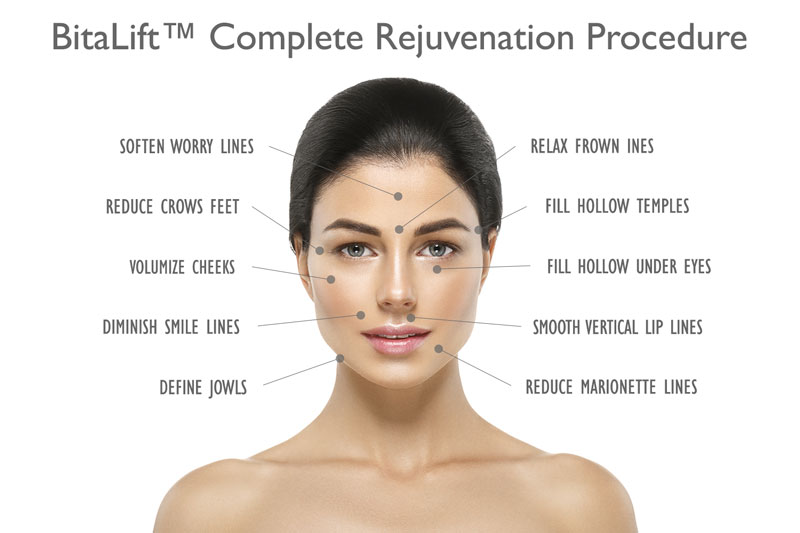 It's perfect for anyone who is not yet a good candidate for a surgical facelift.
The BitaLift™ works like a pushup bra for your face. Redraping the skin and restoring volume.
The beauty of the BitaLift™ is that it is a painless procedure and the side effects are so minimal.
As a matter of fact, one of my clients just told me that she had lunch with a girlfriend the day after getting the BitaLift™
And her girlfriend couldn't make out what it was that made her "look so good!"
So whether you want to look your best for your next date, job interview, or special occasion, you can count on the BitaLift™ to help you:

Look and feel years younger
Save time and money covering up imperfections with makeup
Stop having to pull your hair into a ponytail to lift the skin off the face
How Does the BitaLift™ Work?
I'm glad you asked!
Because every person is unique, the BitaLift™ is a procedure that is customized based on the degree of sagging and location of volume loss.
First, we discuss the areas of the face to treat that will make you look the youngest.
Then I determine the number of threads and dermal fillers needed to accomplish your desired results.
The BitaLift™ is a proprietary technique I've developed over the years that:
stimulates collagen production – which means you build new, stronger skin and tissue
has an immediate effect with virtually no recovery period
Although I recommend you refrain from strenuous workouts, you can resume your daily activity right away.
My clients love it because it:
lifts the skin back up to where it was years ago which lasts up to 18 months
restores youthful volume in 4 key areas of the face lasting up to 2 years or longer
minimizes wrinkles around the eyes, forehead, and between the eyebrows (retreatment is recommended every 3 to 4 months for moderate to severe wrinkles)
leaves minimal to no bruising
It is pain-free, in-office treatment
 I guess you could say that BitaLift™ is like getting a mini-facelift.
Minus the pain and expense of surgery.
But don't just take my word for it…
Read What our Clients Have to Say:
"The lower part of my face and around my chin has bothered me for years. I finally decided to try the BitaLift. Every step of the process was explained and Bita made me feel at ease. The procedure was quick and painless. The initial look of the lift was amazing. My facial area is still a little tender 4 days out, but nothing to stop me from my normal activities. Highly recommended!"
"I am absolutely thrilled! With the BitaLift , it has transformed me not just physically but emotionally. At the age of 62 I was feeling more like 75 therefore I became depressed and down on myself .
You know the saying you can't stop mother nature.
Bita has found a way to fool mother nature with her BitaLift. Not only do I feel better about myself emotionally, physically my husband ,friends and family have all asked me what have you done to yourself!? You look 10 years younger wow! My husband said to me "my wife has her sexy back". And all I do is just smile."
"My experience, from start to finish, was awesome! Bita is a top notch, professional injector who strives for the best results for your face! My improvement with the BitaLift™ was wonderful and I highly recommend this for everyone. No surgery and vast improvement!"
"I am beyond thrilled with the amazing results of my BitaLift™.
PA Bita was able to refresh and renew my entire appearance with this wonderful procedure! It is truly awesome how with the addition of fillers and the unique process.
PA Bita used to see my face lifted and looking younger and softer! It is truly a one of a kind process created by a very talented lady!
Thank you PA Bita!!!"
Naples Skin Clinic delivered instant, visible changes. The BitaLift™ gave me the look I can enjoy for a long time. She performed a thread lift to hold my contour in place and fillers to smooth out the lines and add volume. This treatment created a more youthful look without going under the knife. Her Re-pair clinical skin care evened-out my tone leaving me with a firm, healthy glow- helping me to feel confident and beautiful again!
PA Bita is a highly skilled professional and you know you are in capable hands with her. I absolutely recommend PA Bita for all of your skin care concerns.

Here are before and after pictures from happy clients…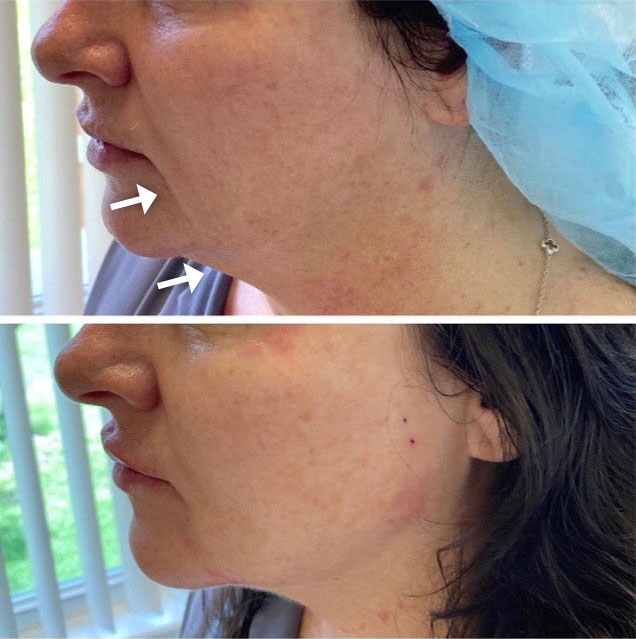 Each patient is unique and results vary.
This happy client got excellent definition of the jawline, lifting of the neck and cheeks, reduced marionette lines and fuller lips!
Each patient is unique and results vary.
The smile lines were dramatically reduced with the BitaLift™. Her cheeks and lips were restored to a more youthful appearance as was her jawline. This patient was thrilled with her natural-looking younger self.
The BitaLift™ Is Not for Everyone
The BitaLift™ is best for individuals with mild to moderate skin laxity who experience skin wrinkles and volume loss.
The ideal candidate is someone in his or her late 30's and older.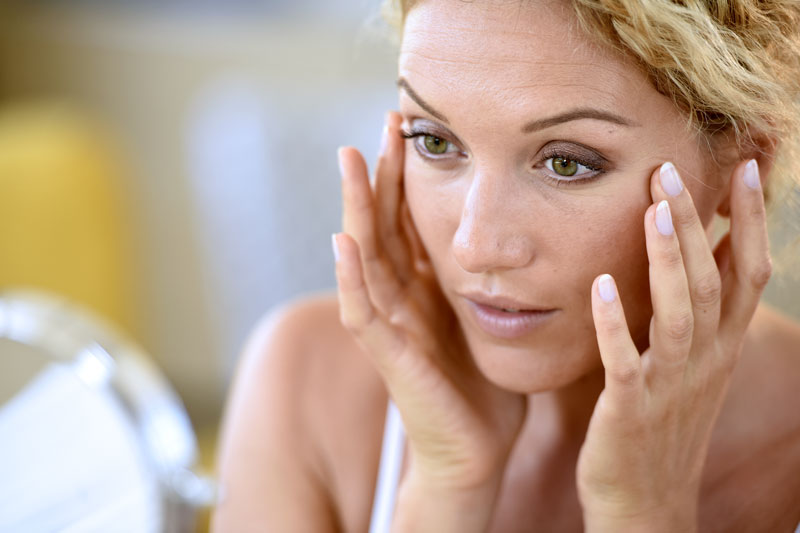 If you like the look when you lift the skin from the sides of your face, then you are the right candidate.
The best indicator of a good candidate is thick healthy skin.
The skin on the side on your face must be at least twice as thick as the skin from the top of your hand. Pinch to gauge thickness.
If during your consultation we determine
the BitaLift™ is not the best option for you…
One of three things will happen…
1. If surgery is your best option, I will let you know and recommend a cosmetic surgeon with a proven track record that can help you.
2. You will leave with a professional assessment and recommendation for the exact solution that is best for your case and still get my Age Reversal Kit (a $600 value) for free. Details below.
3. Offer you an alternate solution which can be performed in office, the same day.
Are You Ready to Turn Heads?
By now, you're probably wondering how much does the BitaLift™ cost?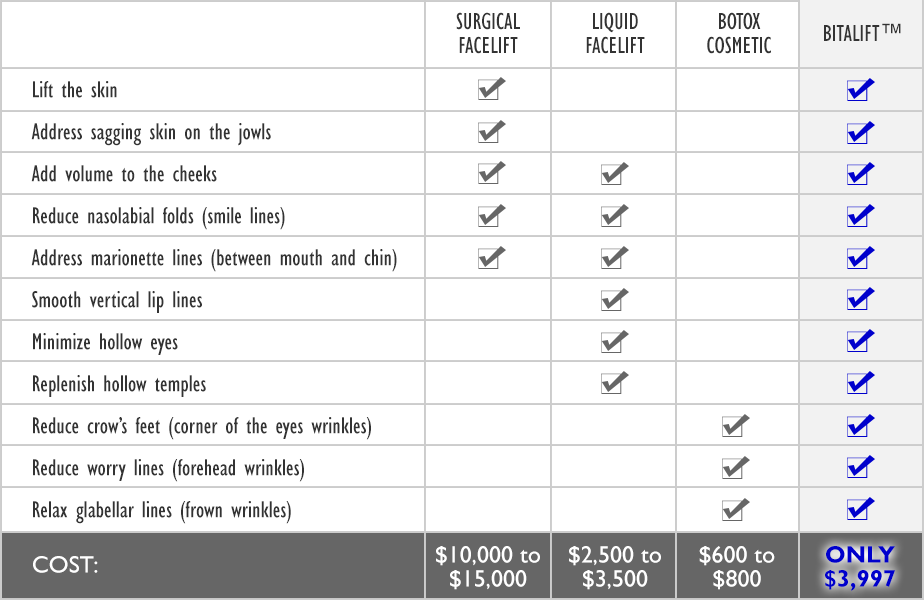 Added up, you would have to pay $13,150 to $19,150!!!
The BitaLift™ addresses ALL of the aging signs from all 3 treatments above for only $3997 or 6 monthly payments of $697!
I Stand Behind My BitaLift™ 100%
I am so confident you're going to see amazing results with the BitaLift™ that I'm offering a "Noticeable Results Guaranteed" assurance.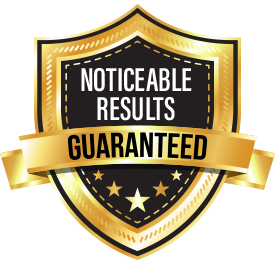 A follow up visit is also included. The follow up is 2 weeks out, at which time I will reassess and retouch if necessary.
FREE Re-pair Age Reversal Kit
Schedule your appointment TODAY, and as my gift to you, I'm including my fabulous Re-pair Age Reversal Kit (a $600 value).
Even if you are NOT a good candidate for the BitaLift™!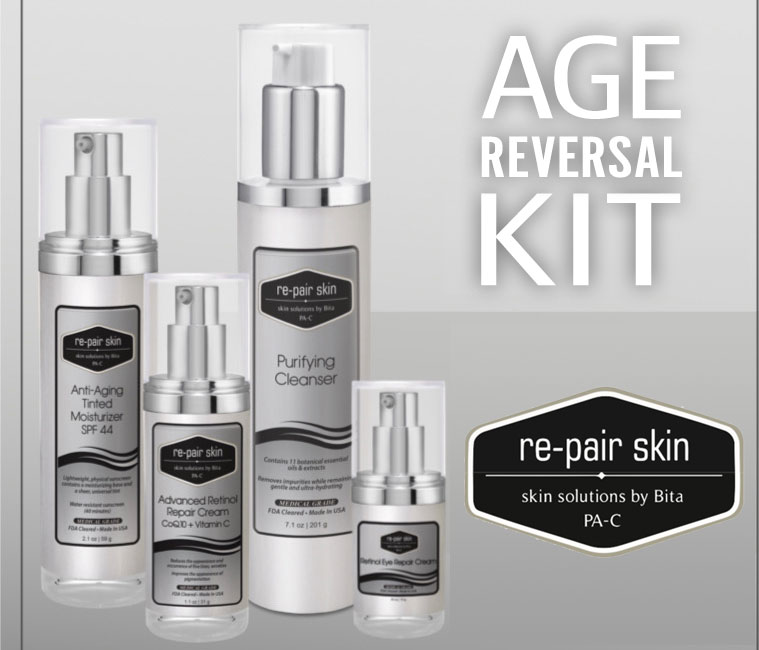 *** WHILE SUPPLIES LAST ***
The Re-pair Age Reversal Kit is a:
A 4-step system to restore skin quality and reduce fine lines wrinkles through cellular turnover for healthier, youthful looking skin
Boosts collagen production
Soothes and moisturizes the skin while giving you a foundation based UVA/UVB sun protection
You Have Nothing to Lose!

Due to the covid-19 pandemic, I am working on a very limited schedule – both for your safety and my own – and taking extra precautions to ensure the office is contamination-free.
You're going to want to SAVE YOUR SPOT today before this offer ends. A good faith deposit of $149 is required which will be credited to your BitaLIft™ procedure.
Click the button below NOW to…
Say YES to yourself TODAY and say goodbye to…
… looking tired all the time even when well rested
… looking older than you feel
If you are concerned about "hooded" eyebrows, today is your lucky day.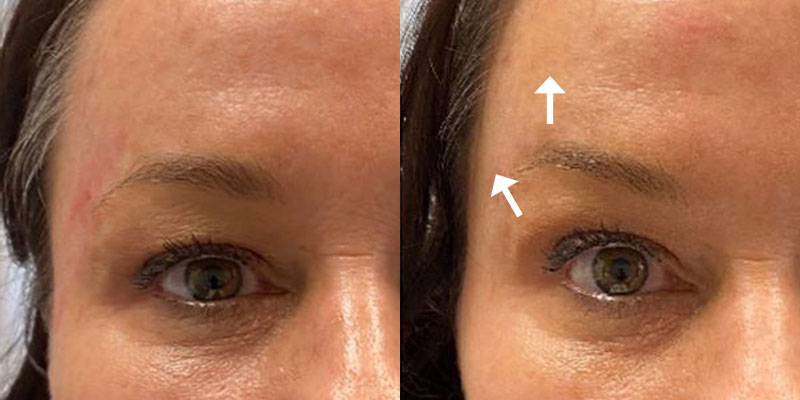 Lifting the brow reduces the appearance of a hood over your eyes. Each patient is unique and results vary.
I will also perform a brow lift using the BitaLift™ method for 50% OFF!
You already know a brow lift reduces the "angry look". And it will also make you appear more rejuvenated and approachable.
However, I can only offer the brow lift at 50% off as an addition to your BitaLift™.
With the addition of the brow lift, you can count on a complete facelift (upper and lower parts of the face) and look alive and vibrant from the minute you wake up.
Just click the button below to…
I look forward to meeting you and helping you get your "mojo" back. I know you won't regret it.
Sincerely,
Bita Ardakani PA-C, MPH, MEP-C
Owner and inventor of the BitaLift™.
You have nothing to lose and everything to gain with our "Noticeable Results Guarantee"
It's pain-free, non-surgical and minimal bruising if any at all!
Should you have any questions, feel free to
call or text me, Bita, at (239) 777-1370.
Naples Skin Clinic
3960 Radio Rd, Suite 109
Naples, Florida 34104